Touch the clouds. Take in 360-degree views. Live the life.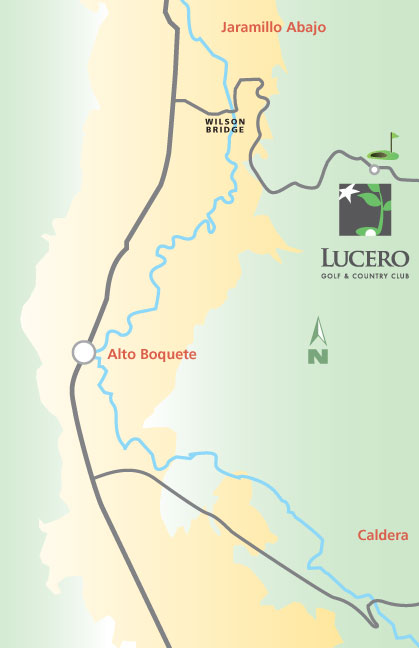 Lucero Homes is an exclusive residential golf course community located in the "La Estrella" suburb of Boquete (valley of the flowers) in the Province of Chiriqui. It is immediately next to Costa Rica's southern border and near the charming town of Boquete in northwestern Panama.
The property is nestled in the country's most mountainous region, approximately 3,366 feet (1,010 meters) above sea level. From its high vantage point, one can take in the area's most spectacular 360-degree views: to the north you see the Jaramillo Mountain; to the east is the continental divide; to the south is the Pacific Ocean, and to the west is the Volcan Baru, which is the highest point in Panama.
Bordered by the Agua Blanca river on the west side, the community and area has numerous creaks running through it, and more than eleven fresh water springs that provide drinking water to the residences. In addition to human residents, the area is home to numerous exotic mammals, birds and butterflies.
At Lucero, the temperature does not vary greatly and is usually somewhere between 70 to 90 degrees Fahrenheit year 'round. It is said that at Lucero the sun shines every day. That is, even during the Wet Season, the sun makes an appearance for a few hours or the afternoon each day.
The district of Boquete has approximately 20,000 inhabitants with several thousand of them being of foreign origin. The mountain town of Boquete, a 15- to 20-minute drive from Lucero, offers all amenities including high-speed Internet, organic markets, modern healthcare, and many restaurants.
Lucero is about 45 to 50 minutes by car from David, the capital of Panama's Chiriqui Province, or 340 miles from Panama City. It is also accessible by road from Costa Rica.
Air Panama offers three 45-minute flights a day to David from Panama City. COPA (the international airline of Panama) flies daily from Canada and the United States to Panama City.
For more information, see Boquete Attractions.